It should be known that secret principals of Goju Ryu exist in the kata.
Goju Ryu Karate-do is a manifestation within one's own self of the harmonious accord of the universe.
The way of Goju Ryu Karate-do is to seek the way of virtue.
Chojun Miyagi Sensei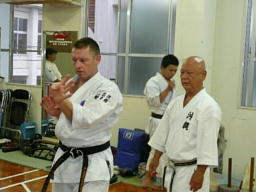 Anthony Willis Sensei has been studying and teaching Traditional Okinawan Goju Ryu Karate for over 30 years. Anthony started practicing Goju in 1983 while at the U.S. Air Force Academy. He was introduced to Shinjo Anyu Senei, founder of the Okinawa Goju Ryu Goyu Kai in 1992, while assigned to Kadena Air Base. Anthony served two tours at Kadena, and was able to study directly under Shinjo Sensei for over 4 years. He makes regular trips back to Okinawa to visit and practice with Shinjo Sensei.
After retiring from the Air Force in 2014 Anthony returned to Missouri.  He currently lives in Clever, MO, and teaches Okinawan Goju Ryu Karate at the Republic, MO Community Center.
Anthony Sensei can be contacted at: anthony.willis@goyukan-usa.com
Goyu Kan – USA is a branch dojo of the Goyu Kai, Yamashita Cho, Naha City, Okinawa.  Shinjo Anyu Sensei Founder and Head Instructor.